You get a security system for a reason — to protect your family and home. Having a security system and managing one are two different things.
Viper Security Technologies provides many options from different providers to ensure we have the best option for you. We offer HD surveillance and monitoring as low as $15.95/month. Monitor your home's lights, locks, thermostats all from your mobile device. Stay worry free 24/7! If the alarm gets tripped by your daughter when she comes home from school, no worries! You can check on her and disarm the alarm all from your desk at work. Did your son lock himself out of the house? No need to leave work, you can unlock the door from your phone.
There is so much comfort you can obtain by having the right security system. It's not just the high definition cameras giving you eyes from anywhere, it's temperature control, motion detection, fire and carbon monoxide alarms, and so much more. Call today to find out how we can help you. (678)342-9110. 
26% of burglaries are committed between Memorial Day and Labor Day..Per FBI!   
 PEACE OF MIND IN THE PALM OF YOUR HAND!
Benefits of protecting  one of your greatest investments
Arm or disarm your security system
High definition video surveillance
Unlock or lock doors
Turn lights off or on
Adjust thermostat temperature
View live video and recorded clips
Check Wi-Fi signal strength indicators
Create and control automated scenes for convenience and energy savings
Receive email and text alerts about selected events, including extreme temperature changes, motion detected in restricted areas and movement of valuable items
Fire alarms, sensors, and detection
Home Security                 Security Monitoring                     Camera Systems                             Fire Protection
 Network Structure wiring                            Access control System                                     VOIP Network Phone Systems
Click Ad to Begin Preventing being part of the Stats!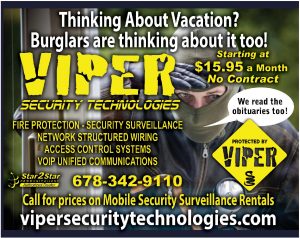 Viper Security Technologies
678 342-9110